International Academy of Aviation and Space Medicine
Académie Internationale de Médecine Aéronautique et Spatiale
Welcome to the Public Website of the International Academy of Aviation and Space Medicine. We are an apolitical international organization with membership from many countries world wide. We invite you to browse our website using the menu on the left. News items are highlighted in the far right column.
UPCOMING WEBINAR INFORMATION: IAASM WEBINAR - March 9, 2022 REGISTER NOW
COVID-19 INFORMATION
Diseases such as COVID-19 caused by SARS-CoV-2 pose risks to the travelling public and to aviation crew members. The COVID-19 pandemic has severely impacted world-wide aviation operations with near catastrophic financial impact on the commercial aviation industry. As aviation medicine practitioners we may be called upon to provide guidance and recommendations on the health and medical aspects of air travel during this pandemic. The links below lead to international references and guidance that may be of help to our members, other health care providers, and to the general public.
Countries of Our Members
The following countries are represented in the Membership:
• • ARGENTINA• AUSTRALIA• AUSTRIA• BELGIUM• BRAZIL• BULGARIA• CANADA• CHILE• COLOMBIA• CONGO D.R.• CROATIA• CYPRUS• DENMARK• FINLAND• FRANCE• GERMANY• HUNGARY• INDIA• IRAN• IRELAND• ISRAEL• ITALY• JAPAN• JORDAN• MALTA. G. C.• MEXICO• NAMIBIA• NETHERLANDS• NEW ZEALAND• NORWAY• PAKISTAN• PANAMA• POLAND• PORTUGAL• REP. OF SOUTH KOREA• REPUBLIC OF MOLDOVA• ROMANIA• SINGAPORE• SLOVENIA• SOUTH AFRICA• SPAIN• SRI LANKA• SWEDEN• SWITZERLAND• THAILAND• THE NETHERLANDS• UK• USA•
Welcome from the President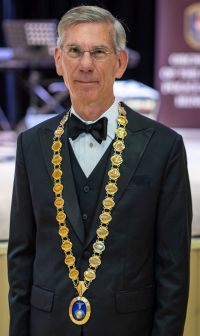 December 2020: Third communication as President of the International Academy of Aviation and Space Medicine (IAASM)
Dear Academicians and Visitors:
For those not familiar with the International Academy of Aviation and Space Medicine, it is an international organization founded in 1955 that exists to promote the field of Aviation and Space Medicine and allied disciplines through international collaboration. Our members (Academicians) are a relatively small group, limited to 275 individuals, of the leaders and experts dedicated to Aerospace Medicine and allied disciplines around the world. Such a small and close network of colleagues makes it possible for us to coordinate joint efforts of mutual interest and promote our activities on a global scale.
Since my second communication as President in April 2020 the world has undergone, and continues to be affected by, immense change as we deal with the SARS-CoV-2 virus and COVID-19 illnesses. The aviation sector has been very severely buffeted by the ongoing effects of the global pandemic and aerospace medicine professionals are uniting in a new way to help play our part in fighting the spread of this novel coronavirus.
The Academy's plans for 2020 had to change dramatically. You may recall that it was intended to hold our annual Congress in combination with the first International Conference of Aerospace Medicine (ICAM), hosted in collaboration with three other organizations – the European Society of Aerospace Medicine, La Société Francophone de Médecine Aérospatiale, and the Aerospace Medical Association. We were all looking forward to this event, but it could not take place because of COVID-19 and it was postponed to 2021. However, the ongoing pandemic has forced a reconsideration of a 2021 conference.
In light of the uncertainties concerning the effects of COVID-19 in 2021, the four ICAM organizers recently made the decision to postpone the next conference to 2022. The new dates are 22 – 24 September 2022, in Paris. By 2022 we believe the situation should be returning to some kind of normality.
However, having made this decision, all four organizers strongly felt that we should not let 2021 pass without offering a virtual conference of some type. Various options are being considered and it may involve multiple webinars spread out over 2021. The Academy has offered to lead the effort to organise a virtual conference, which is in line with one of our Strategic Plan objectives, to expand educational opportunities in aerospace medicine. Information about the Virtual ICAM 2021.
Whilst the pandemic has disrupted our usual face-to-face meetings and conferences during 2020 (which is likely to continue during 2021) the work of the Academy continues and, for example, the implementation of our Strategic Plan (https://www.iaasm.org/aboutus.cfm) and the revision and updating our website are making progress, despite the pandemic.
Finally, I would like to draw your attention to our IAASM Scholarship. The $20,000 USD IAASM Scholarship has been a great tool to promote post-graduate education and research among young professionals in Aerospace Medicine and allied disciplines around the world, particularly among those countries needing knowledgeable and experienced professionals in this field. A number of previous recipients of our scholarship have advanced in their professional careers to positions of leadership in aerospace medicine in their home countries. Information about the scholarship and the application form can be found at IAASM Scholarship (https://www.iaasm.org/scholarship.cfm).
Thank you for visiting our website and visit again to stay current with changing schedules.
James M. Vanderploeg, MD, MPH, FAsMA
President